We are a Restoration, Remediation, Construction and Maintenance company that works with commercial, residential customers and not-for-profit organizations by providing services that fix, build and maintain their quality of life.
We can FIX it.
Our 24-hour Emergency Service team of experts serves the 5 boroughs, Nassau, Suffolk & Westchester areas with responsive, professional disaster remediation, restoration, and cleanup services. We can rebuild you from any water, fire, mold, or disaster, including roof and basement leaks and code violation repairs. We work with ALL major insurance carriers.
Property owners, managers, and homeowners alike appreciate our personal service, knowledgeable approaches, and solid solutions which can minimize losses, allowing us to extend reasonable prices. We are fully licensed and insured, and our mission is to build long-term relationships with ALL of our Customers.
Mold Remediation, Fire Restoration, Roof and Basement Leaks, Sewage Backups, Storm Damage, Odor Removal, Flood Restoration, Code Violation Repairs, Trauma/Crime Scenes
We can BUILD it.
All•Boro has constructed additions in homes and offices throughout the local metropolitan area. Our team is expert in ground-up construction for commercial and residential projects, including home extensions, second story additions, office renovations and home improvements. ALL within your schedule… ALL within your budget. ALL good.
Commercial, Residential & Not-For-Profit Properties, Office Buildouts, Bathrooms & Kitchen, Renovations, Repairs & Painting, Flooring Installation, Basements & Dormers, Basement Waterproofing, Extensions, Installation of Windows & Doors
We can MAINTAIN it.
Our Service Division prides itself on providing maintenance services to non-profit properties, property management firms and healthcare facilities. Maintaining a residential property requires a variety of skills that can lessen costly repairs, and ensure your property is free of hazards. At All•Boro, we offer property maintenance services for your space that leave you free from worry about the details.
Duct Cleaning, Exhaust Vent Cleaning, Office Cleaning, Trash Chute Cleaning, Full Apartment Clean-outs, Post Construction Clean-ups, Carpet & Upholstery Cleaning, Stripping & Waxing Floors, Graffiti Removal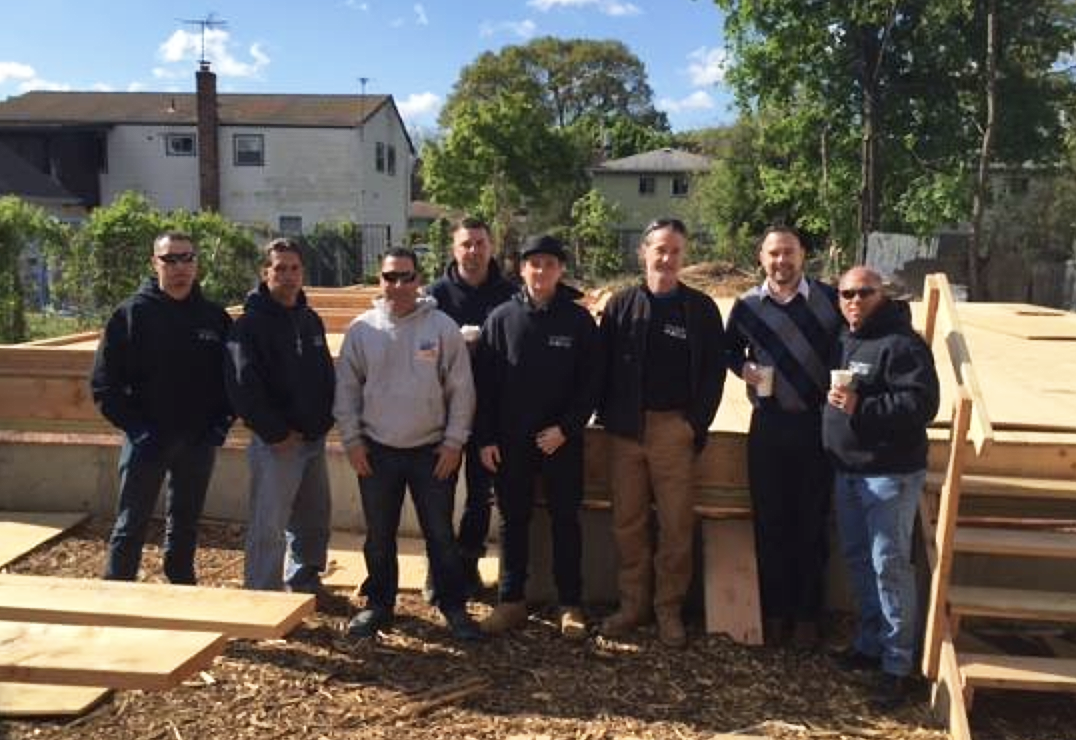 All•Boro was formed almost two decades ago, by Mell Goldman. Mell had the goal and dream to build a thriving business that provided a secure living for his family, offered great opportunities to employees and future employees, and provided great services to his clients and community at large.  With a tremendous amount of enthusiasm and hard work, two ingredients most start up cannot exist without, Mell made every day count.
From inception, All•Boro was not the One Source, rather it first started in one or two specific industries – providing office cleaning to the medical profession. Over the years as time went on, we expanded the variety of services we offered. As we saw the increased needs and opportunities, we learned new skills, refined and perfected them. We found that our clients who may have a need for flood remediation didn't just need to resolve the issue of mold and removal of debris, they needed to rebuild.
Our diverse team of experts make All•Boro the "go to" company which separates us from the competition. 
See what our clients are saying!
"I can always count on All Boro to provide professional, reliable service. As the Operations Manager for a major Off-Broadway Theater in a historic building, All Boro has been able to accommodate our unique and specific needs, every time an issue arises. I am happy to say that All Boro is the first number and call when I need their services and will continue to be."
" We have had nothing short of excellent experiences with them. We manage a portfolio of mid-rise rent-stabilized buildings in Brooklyn, and we have used All Boro primarily for their service of cleaning out our buildings' compactor chutes. The results of their thorough work have spoken for themselves. Furthermore, All Boro truly answered our call in a time of need when a radiator sprung a leak in our office's basement that caused significant flooding. We can't thank them enough for guiding us through that crisis. And we would not hesitate to recommend All Boro to any peers in our field or anybody else for that matter."
" We are so grateful to Mell and his team for taking care of us after a disaster in our basement. No one can be prepared for the unexpected, but when you know you have someone taking care of you, who is an expert in their field, it makes a world of difference. Mell was always available to answer our questions, after hours and on weekends, and held our hand through the entire process – removal, cleanup, insurance claims, it was all taken care of. When everything seemed like it was falling apart (because it literally was), we felt confident that it was being handled, and more importantly, handled the right way. He treated our house like his own home, and we cannot thank him enough for being our family's advocate in our time of need.
"I have known Mell through the New York City and Long Island Networking circuit for several years and have cultivated a healthy business relationship. His wealth and knowledge of construction, property maintenance and remediation is endless. What makes All Boro so special and unique is that Mell started the company with nothing and turned the company into a large first class operation and success.
When our work gets done we can sleep at night knowing that Mell is getting our job done the right way and by the proper codes and standards. All Boro is a company you always want on your team."
Dear Mell,
I would like to thank you and your men for the hard work and dedication that was portrayed in order to complete our project. You guys did a wonderful job. I will keep you in mind when other projects come our way. The end product was fantastic. I appreciate all your help along the way during this nightmare of a situation. Thank you again.
Dear Mr. Goldman, More than one year has passed since we engaged your company in the horrendous job of clean-up after a fire that occurred on the 9th floor in August '03.
The service you provided was done quickly, efficiently and with extreme sensitivity to the elder/handicapped people who live in our development. Even when you were not on-site, you were always easily reachable. That asset in today's business world is definitely a plus. In addition, your guidance, in terms of the importance of mold control and elimination, was illuminating and truly helped us in making the right decisions during the clean-up process.
I would highly recommend your company to anyone in need of your services. To have found a company that really handles the job, communicates well, is knowledgeable and friendly, is a rarity.
Thank you for making us whole after the trauma of the fire.
"Mell and his entire staff at All Boro have consistently provided excellent work and service to my clients. Mell's attention to detail along with his sincere desire to help allows me to very comfortably recommend him to my network of companies and friends. Thank you!"
" I have had great experiences with All Boro! I have recommended you to our clients! Thank you for making me look good by being honest & reliable. Your workmanship shows that you care!
" All Boro is a stupendous company. They did everything they said they would and more! If All Boro could not come they informed me in plenty of time, I never had to sit around and wait for them. They ALWAYS showed up on time. They left my home clean and neat everyday! They were absolutely wonderful I have no complaints. I can not thank All Boro enough for what they did. I would recommend them to everyone! Thanks All Boro!
"We would think you would want to continue recommending Mell to your clients. We were extremely satisfied with his efforts on our behalf. Thank you for recommending Mell Goodman of All Boro to do the repair required on our sidewalk at 185 Ferncroft Rd, Mineola, NY. We had to have 7 squares removed and replaced, some with tree roots involved as well. Mell is a professional who was involved thru out the job. He was responsive and kept us aware of the project schedule and progress, culminating with our meeting with him for a walk through of the completed job. Mell even took and supplied us with pictures showing the before and after of the project.
"I contracted All Boro to do some work on my home after experiencing water damage and wanted to let you know that I was extremely happy with the results of your company. The quoting process was fast and easy, the work crew was on time every day and efficient in completing the job. I was very pleased with the quality of their workmanship and there were no unpleasant financial surprise costs during the process.
I recommend All Boro to family and friends and would absolutely use them again. Great job all around!"
All Boro has just completed a renovation in a townhouse I recently moved into. The renovation included a new bathroom, painting, redoing my bannisters, replacing doors, and various electrical and other projects. The entire project was done professionally, and beautifully. The outcome was truly amazing. What was also terrific is that I felt I was listened to and my opinions were respected. I was always kept informed about how things were going and made aware of any issues.
One of the best things was that they finished on time and the cleanup was fantastic. You would not know they had been in my house. All in all, I would highly recommend All Boro for any renovation.
All Boro Cleaning Services has been cleaning for us since July of this year. Although this interior of our building is only four years old, it was starting to look very run down due to poor performance of our past maintenance people.
Meeting with the representative from All Boro was very refreshing. We could tell that they really took pride in their work. As soon as they started cleaning for us, our building started looking new and well cared for. They recently stripped and waxed our floors, and they came out looking great. The two women that clean for us are very polite and careful. They are extremely reliable, and are always agreeable to do any extra cleaning that we need. Anytime we have called the office they have been very pleasant and helpful.
I feel very confident in recommending them to anyone that needs a cleaning service.
" My husband and I would highly recommend All•Boro for any home improvements and construction made easier. We extended on our high ranch home and we are amazed at the quality of work that ALLBORO has done. They were very thorough, always on time, and most importantly, cleaned up at the end of each working day. They also listened to our concerns, were very attentive to our needs and made some recommendations to alleviate some of the stress of the construction.
" They are my go to company for Emergency recovery and repairs after fires. As the owner of a mid-sized Real Estate Management firm located in Forest Hills, N.Y. I have been using All Boro Inc. for 20 years. They also help me with environmental issues such as mold remediation or contamination from floods and sewer backups. They also do my periodic garbage removals from my properties, miscellaneous construction and repair work and they deal with my bed bug issues as well. I have found them to be 100% reliable, reasonably priced and they provide high quality work whenever called. I highly recommend them as a top tier Vendor for all your needs.
"I hired Mell's company All Boro in 2011 after my house was damaged by Hurricane Irene. I have never had a more pleasant experience dealing with a contractor or home repair company. Mell and his staff were extremely professional and knowledgeable and the end results were that my home look absolutely fantastic. I would not hesitate to recommend them to friends and family and have done so."
"Quick and professional response to our problem. Crew was great. All in all a very good experience."
Dear Mell,
I just wanted to drop you a quick line to thank you for all your help. When we had the flood in our basement, I didn't know where to turn or what to do. Needless to say, I was "freaking out".
Luckily, a friend gave me your phone number. When I spoke to you on the phone I literally felt my blood pressure returning to normal. You told me exactly what to do until you could arrive. You were here quickly and took control of the situation. I can't thank you enough.
Your staff was also very helpful and the scheduling for the after drying cleanup was a breeze.
Thanks, Mel. I hope I don't need you again, but in case I do, I'm glad you're there!
Dear Mell,
Thank you, thank you, thank you! You made a very difficult situation so much easier, and went above and beyond to make sure we were satisfied with the work your company did.
When I went to my mother's house on the weekend after that week of rain, I never expected to see 8 inches of water in her basement. I knew it was going to be a major problem to get my mother to agree to not only get the basement pumped, but also to clear out all the moldy "stuff" she had accumulated over her 50+ years in that house. My mother doesn't like to throw anything away, and is very uneasy having strangers in the house.
I also knew it was going to be tough not only for me, but also for whomever I hired, to get my 3 sisters to agree about what needed to be done.
You were so patient with all of us. You were accessible, and answered all of our questions. Both your office staff and the men who worked at her house were very professional and pleasant. You were reliable, and always called to let us know when either you or your people would be arriving.
I would absolutely recommend you to others. Feel free to have others call me for a reference.
All Boro Cleaning Services has completed several jobs such as cleaning our compactor chutes in 2 of our buildings in Garden City, and has been punctual on his starting times and finishing times.
He has also done carpet cleaning in our building and the job was performed very well, without any delays and very satisfactory.